-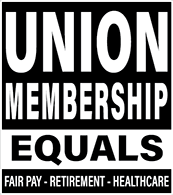 FAIR PAY
Fair pay is a priority for our union.  It is the only way the state will recruit and retain high quality employees needed to ensure efficient and quality public services in Washington.
Public employees are the driving force behind quality public services and we should be compensated fairly for the work we do.
In the current contracts, we won the largest compensation package since we gained the right to negotiate. That included cost-of-living adjustments and additional raises for more than 12,000 state employees to address the recruitment and retention crisis. Also, the first increase in vacation leave in more than 40 years. And the contracts safeguarded step increases and much more.

AFFORDABLE HEALTHCARE
Healthcare is an important part of family security. But gaining affordable healthcare doesn't just happen. It takes all of us joining together with know-how and commitment:
AT THE BARGAINING TABLE:  Our union and other smaller unions join together in coalition to negotiate how much you pay for their health care coverage. While some want you to pay more for your health care premiums, we've negotiated to keep your share of premium cost at 15%, while the state pays 85%.
AT THE BENEFITS BOARD:  The Public Employees Benefit Board (PEBB) is charged with administering the health care benefits for active and retired state employees. The Washington Federation of State Employees/AFSCME Council 28 has a seat on the board, as does AFSCME Retirees (Retired Public Employees Coalition RPEC-WA). Our representatives there have won important improvements in our health insurance benefits.
AT THE LEGISLATURE:  Union members stopped a legislative effort to cut coverage of spouses from our health insurance and continually fights rising out-of-pocket costs and other assaults on our health benefits. In 2018 alone, we stopped House Bill 2869 -- which would have made us pay 33% more for our healthcare.

-
RETIREMENT SECURITY
AFSCME Council 28 (WFSE) plays an active role in our state pension plans. We have active members on the State Investment Board (SIB), on the Select Committee on Pension Policy and in a coalition with other public sector unions to protect and improve the benefits of our members.
Our union protects retirement security for all public employees. We have stopped repeated attacks on pensions and retirement security for public employees, like attempts to turn our pensions into risky 401(k) plans.
And as a union, we work to improve retirement. In 2018 alone, won a lower retirement age for workers in our state institutions who face high rates of injury and assault (SHB 1558 expanding PSERS). Together, we advocate for retirement security and a healthy pension system.

-
PRESERVING PUBLIC SERVICES
AFSCME Council 28 (WFSE) members advocate for services that make Washington strong.
Our union supports the mission of public services -- 100%. Member advocates have saved hundreds of public programs and state services. SSB 6090, the Capital Construction Budget, was held up by the previous Senate majority for 287 days starting in mid-2017. It finally passed and was signed into law early this year. It freed up billions of dollars for infrastructure and ended layoffs of state employees whose positions are funded by that budget. This would not have happened without the efforts of WFSE/AFSCME members since last April with job actions, visits to legislators, Lobby Days, emails, phone calls and petitions. We saved the day for taxpayers – once again.
We strongly oppose outsourcing of public services and have successfully stopped attempts to cut services and lay off employees. We've sponsored legislation, including 2ESHB 1851 in 2018 to save jobs and protect taxpayers from shoddy outsourcing. In early 2018, we won $48,000 in settlement money for members harmed by unlawful contracting out at Enterprise Services, Ecology and Western State Hospital. If we don't stand together for these things, who will? 
Advocate.  Negotiate. Communicate.