WFSE made the 2021 Washington State legislative session a success despite the remote status.
4/27: WFSE Members Won Big This Session 
Before the start of the 2021 legislative session, public employees were looking at continued furloughs, layoffs and severe program cuts due to a multi-billion dollar budget shortfall.
Despite this being our first-ever remote legislative session, we ensured that our voices were heard with phone calls, emails, letters, and virtual lobby days.
Thanks to WFSE members and our allies, we turned this session into a success:
FUNDING FOR THE ELIMINATION OF GENERAL GOVERNMENT FURLOUGHS IN BUDGET

CAPITAL GAINS TAX TO FUND VITAL PROGRAMS -SB 5096

JUNETEENTH IS A STATE HOLIDAY STARTING 2022 -HB 1016

CONTRACTS FUNDED WITH STEP INCREASES IN BUDGET

EXTENDED COLLECTIVE BARGAINING RIGHTS TO AGO TORTS DIVISION -SB 5133

LAW ENFORCEMENT REFORM W/ PROTECTION OF DUE PROCESS & COLLECTIVE BARGAINING (MULTIPLE BILLS)

SAVED MEMBER JOBS AT THE HORSE RACING COMMISSION -HB 1022

REMOVED OUTSOURCING FROM THE IT CLOUD COMPUTING BILL -HB 127

STOPPED THE IMMINENT CLOSURE OF RAINIER SCHOOL
This is an historic moment for Washington State. Many lawmakers showed courage and demonstrated their willingness to take on billionaires who've profited from the global pandemic. More is needed - but the capital gains tax is step in the right direction. Click here to send a thank you to legislators who supported the bill.
3/26:
1/26:
Lawmakers are debating issues that impact your future. They need to hear from the experts; that means you.
1/11-1/17:
WFSE Launches First Ever Virtual Lobby Days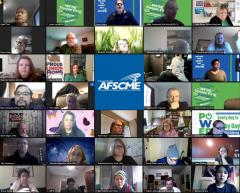 WFSE members are adapting to the times to ensure their voices are heard. More than one hundred members from across the state joined the January 9 WFSE Lobby Training. Why? Because no other workforce has more at stake in the decisions made by state legislators. Miss the training? No worries; we'll catch you up. Click here to register to meet your legislators.
WFSE Testifies on State's Operational Budget, Calls On Lawmakers to Find New Revenue
The 2021 Legislative Session began January 11. Decisions about wages, work conditions and the services we provide will be made by our elected officials over the next three months.
"State employees have done their part. We've made sacrifices. Now it's time for the rich and powerful to do the same," said WFSE's Director of Legislative & Political Affairs Dennis Eagle.
We need shared responsibility, not cuts. That means the super-wealthy will have to start chipping in. See budget highlights here.
WFSE Testifies on Law Enforcement Accountability & Reform
"As a union, we champion collective bargaining and due process rights – including officers, while also advocating for reforms to confront systemic and individual racism. We must rebuild trust between police departments and the communities they are sworn to serve," said WFSE Executive Director Leanne Kunze. Learn about SB 5134 and SB 5055.
WFSE Is Leading the Way to Make Juneteenth a State Holiday
"We can't move forward into a space that's truly anti-racist until we know our history," said WFSE Lobbyist Sandra Toussaint.
"We celebrate Martin Luther King Jr.'s birthday as a federal holiday, but there would be no Martin Luther King Jr. without Juneteenth. We need to recognize this day as not only a piece of Black history, but of our country's history. Making this a state-recognized holiday will be a huge step forward. It is important in our work to move forward in anti-racism." Learn about HB 1016.